Y

I'm a sucker for a bargain, especially when the bargain involves a corn dog! Whether you are a die hard corn dog lover or just a corn dog novice, you have one big reason to visit your local Hot Dog on a Stick on Tuesday. Why? Well, every Tuesday, Hot Dog on a Stick sells their original Hot Dog on a Stick for just one dollar! That's right, only $1! I'm sure regular prices vary by location, but my local HDOS normally sells their deep fried dog of deliciousness for $2.75, so "Dollar Tuesdays" offer some serious savings!
Another morsel of information you may not know is that the original Hot Dog on a Stick is 100% turkey. I had no idea. One dollar, 240 calories and 11 grams of fat is a pretty sensible splurge in summertime. And it sure does make it easy to treat people to lunch.
You can find Hot Dog on a Stick nutritional information here.

Dollar Tuesdays at Hot Dog on a Stick are an Average Betty Best Deal in Town! And beyond the Tuesday special, you'll be hard pressed to find a better tasting corn dog than Hot Dog on a Stick — if you know of such a corn dog, please let me know.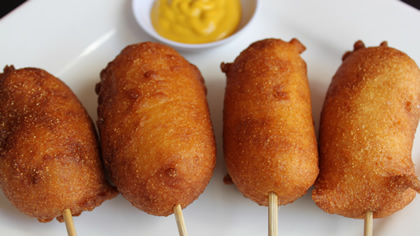 Can't get out? Use my Corn Dog recipe and make em' yourself!