Are Salt Baked Potatoes really worth their salt? With the help of a few expert recipes, a boatload of salt and one very curious Potato Popper, I put salt baking to the test with Idaho Potatoes. Watch the How to Make Salt Baked Potatoes Video and see for yourself!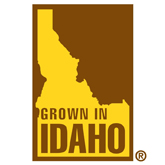 Get the recipe for Salt Baked Potatoes as seen in the video!
For more great recipes using Idaho Potatoes, check out the Idaho Potato Commission Website.