Y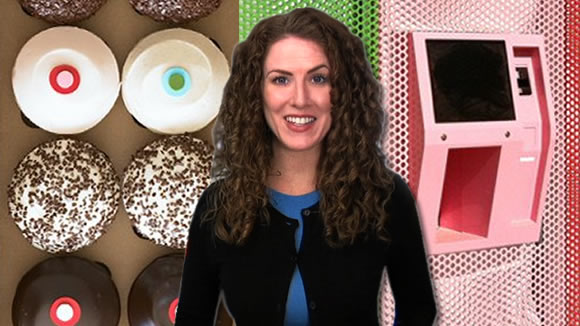 CLICK HERE to watch Sprinkles 24 Hour Cupcake ATM at Babble's Family Kitchen.
UPDATE: This video was featured on NBC Bay Area!
You can't make deposits. But who would want to?
In a genius move to keep cupcakes on everyone's sweet-treat radar, Candace Nelson of Sprinkles Cupcakes gives us the Cupcake ATM.
Now, ravenous cupcake fiends (and their furry friends) can satisfy their cupcake cravings 24 hours a day in Beverly Hills. What do you think about the Cupcake ATM? Would you rather have a CORN DOG ATM? Head over to Family Kitchen, watch my video CUPCAKE ATM and tell me what you think!
A FEW OF MY FAVORITE CUPCAKE RECIPES


Vanilla Cupcake Recipe

Chocolate Cupcakes with Peanut Butter Frosting Recipe

Sweet as a cupcake! Candace Nelson and Sara O'Donnell at Los Angeles Times and Food & Wine's The Taste, 2011.
More on Sprinkles Cupcakes 24 Hour ATM at CNN. Photo Credits: Sprinkles Beverly Hills Facebook (thumbnail, above)