Y
WATCH THE VIDEO!
Every year the Idaho Potato Commission hosts a select group of bloggers, chefs and editors to experience the Idaho Potato Harvest. Get a preview in this short video, because there is more to come!
Special thanks to Don Odiorne, Travis Blacker and the entire harvest team at the Idaho Potato Commission for an experience like no other.
Truly immeasurable thanks to farmer James Hoff for the wild ride in his bright red 1943 Boeing Stearman biplane that appears in commercials for Famous Idaho Potatoes. And to farmer Alex Tiede for getting us on the Harvester to see first hand the sheer volume of spuds that can be unearthed in 45 minutes. Wow! Wow! Wow!
And of course, SUPER BIG thanks to the cool kids on the bus.
I know, I can be obnoxious.
I'm sorry…
Art from Latino Foodie
Betsy from Betsy Life
Carla from Chocolate Moosey
Cynthia from The Log Home Kitchen
Emily from Emily Ellyn
Faith from An Edible Mosaic
Jackie from Jackie Gordon
Kathy from Healthy Slow Cooker
Lisa from Healthy Nibbles & Bits
Lori from Foxes Love Lemons
Sabrina from The Tomato Tart
Dave from CD Culinary Approach
Eric from Newly Weds Foods
Jeff from Freddy's Steakburgers
John from eat'n park
Martin from Restaurant Martin
Kay from National Culinary Review
Mary from Cafe
Sam from QSR Magazine
Scott from Burger Business
Tara from Food Management
And last but not least my truly talented, didn't know he was that flexible videographer/editor Daniel Rego.
Stay tuned! The Idaho Potato Harvest Tour Video is coming soon!
You're cutting your baked potato all wrong.


Watch the How to Pop a Potato – Perfect Baked Potato Video and get the Perfect Baked Potato Recipe.

Don't miss a video… SUBSCRIBE TO MY CHANNEL ON YOUTUBE!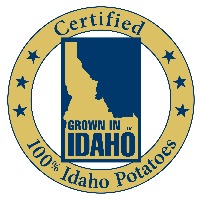 The Average Betty Test Kitchen developed this recipe and produced this video on behalf of the Idaho Potato Commission.
For more great recipes using Idaho Potatoes, check out the Idaho Potato Commission Website.