Y
WATCH THE VIDEO!
When you take an already insanely delicious Loaded Baked Potato Soup and top it with a spicy, roasted Poblano Chili Sauce, creamy, nutty Crème Fraîche and the fanciest of bacon bits, you get TOUCHDOWN DANCE Potato Soup.

Watch the video featuring College Football Reporter, and expert on all things tailgating, Heather Cox!
Ingredients for Touchdown Dance Potato Soup:
12-16 6-8 ounce Idaho Russet Potatoes (divided)
6 slices thick cut bacon, cut into lardon strips
1 large onion, chopped
1 medium carrot. chopped
2 ribs celery, chopped
6 cups chicken broth
1/2 cup heavy cream
1 teaspoon coarse salt (to taste)
Ingredients for Poblano Chili Sauce:
5-6 poblano chiles roasted, peeled and seeded
1 large onion, roasted and chopped
2 cloves garlic, roasted
3 TBSP chopped cilantro
1/4 cup cold water
1 TBSP honey
1/4 teaspoon coarse salt
juice of one lime

NOTES: Makes 16-18 cups soup and about 2 cups Poblano Chili Sauce. For added instruction and entertainment watch the Touchdown Dance Potato Soup Video.
Directions for Poblano Chili Sauce:
1) Toss chilies and chopped onion with olive oil, salt and pepper.
2) Roast in a preheated 425(F) oven, turning chilies and stirring onions occasionally approximately 30-40 minutes, until caramelized but not burnt.
3) Halfway through the roasting process, add garlic cloves in their skin and continue roasting.
4) Peel and seed chilies. Peel the garlic.
5) Add the chilies, onion, garlic, cilantro, water, lime juice, and honey to blender. Puree until smooth adding more water if needed.
6) Season to taste with coarse salt. Set aside until ready to garnish soup. Refrigerate unused portion.
Directions for Potato Soup:
1) Peel and chop half of the potatoes. Leave the skin on and chop the other half.
2) In a large soup pot brown bacon strips to make lardon. Remove from soup pot and drain on paper towel. Remove most of the bacon fat from pot, leaving 2-3 tablespoons.
3) To the pot add onion, celery and carrot. Saute 5-10 minutes until softened.
4) Add the peeled potato pieces and saute a few minutes more.
5) Pour in the chicken broth and bring to a gentle boil. Cover and allow to cook until the potatoes are tender.
6) While that is cooking, in a medium pot cover the skin-on, chopped potatoes with water. Bring to a boil, reduce the heat, cover and cook until tender. Drain the water, cover and set aside.
7) When the potatoes in the soup pot are tender, carefully ladle mixture, or use an immersion blender and puree until smooth.
8) Add the cooked, unpeeled potatoes and stir to combine.
9) Stir in heavy cream and bring to temperature.
10) Taste and adjust seasoning with salt and pepper if desired.
11) Serve piping hot garnished with Poblano Chili Sauce, Crème Fraîche and Lardon.

For added instruction and entertainment watch the Touchdown Dance Potato Soup Video featuring College Football Reporter Heather Cox.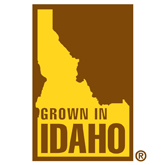 The Average Betty Test Kitchen developed this recipe and produced this video on behalf of the Idaho Potato Commission.
For more great recipes using Idaho Potatoes, check out the Idaho Potato Commission Website.

Don't miss a video… SUBSCRIBE TO MY CHANNEL ON YOUTUBE!