Y
Making ravioli at home might sound like you need the mad skills of an Italian grandmother.
Well, I have a shortcut that makes homemade ravioli super fast and easy.
How fast?
Faster than burning through the limit on your family data plan.
Idaho Potato Ravioli with Lemon Caper Sauce
Ingredients for Idaho Potato Ravioli:
1 12-16 ounce Idaho Russet Potato
1 TBSP fresh lemon juice
2 TBSP cream cheese
1 teaspoon dried parsley flakes
salt to taste
Lemon Caper Sauce:
2 TBSP olive oil
2 cloves garlic, microplaned
2 teaspoons lemon zest
6 TBSP fresh lemon juice
2 TBSP butter
1 TBSP capers
salt to taste
24 -28 won ton wrappers
egg wash
NOTES:
Makes 12-16 Idaho Potato Ravioli. Watch the Potato Ravioli Video for added instruction and entertainment.
Directions for Potato Ravioli:
1) Peel and chop potatoes. Cook until tender.
2) Mash potatoes with salt, lemon juice, cream cheese and parsley to make the ravioli filling.
3) Make ravioli using won ton wrappers. For added instruction, watch the video.
4) Drop into boiling water for 4 minutes, finish cooking in Lemon Caper Sauce.
Directions for Lemon Caper Sauce:
1) In a sauce pan over low heat combine olive oil, garlic and lemon zest.
2) Add lemon juice and butter.
3) Add capers then ravioli.
4) Spoon sauce over ravioli and serve with fresh grated cheese.
For added instruction and entertainment watch the POTATO RAVIOLI Video and subscribe to my channel on the YouTube!

Don't miss a video… SUBSCRIBE TO MY CHANNEL ON YOUTUBE!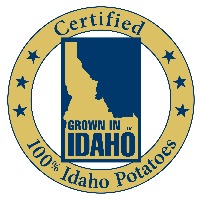 Average Betty and the Idaho Potato Commission have been partners in bringing you video recipes since 2011.
The Average Betty Test Kitchen developed this recipe and produced this video on behalf of the Idaho Potato Commission.
For more great recipes using Idaho Potatoes, check out the Idaho Potato Commission Website.