Y
The Hash Brown Burger is a cheeseburger with hash browns for buns.
You know, like the Ramen Burger, but with hash browns.
And by substituting the bun with crispy, golden hash browns, you get meat n' potatoes in every bite… so that means no more wasted energy reaching for fries!

Hash Brown Burgers are great for National Burger Day, Memorial Day weekend or anytime you want to take your cheeseburger to the next level.
Ingredients for Hash Brown Burger Buns:
1 pound peeled and shredded Idaho Russet Potatoes
Ingredients for Cheeseburgers:
1/2 pound ground beef
2 slices cheese
2 sunny side up eggs
salt and pepper to taste
Ingredients for Fry Sauce:
1/2 cup mayonnaise
1 teaspoon sugar
1 teaspoon spicy brown mustard
1 TBSP red wine vinegar
1 TBSP ketchup
spicy brown mustard
few drops Worcestershire sauce
few drops hot sauce such as Tapatio
salt to taste
Ingredients for Bacon Jam:
caramelized onions
2 pieces cooked and crumbled bacon

NOTES:
Makes 2 buns, top and bottom (four 1/4 pound hash brown patties). Serves 2. For best results, prepare Fry Sauce and Caramelized Onion Bacon Jam ahead of time, up to a day in advance. For added instruction and entertainment watch the Hash Brown Burger Video!
Directions for Hash Brown Burger:
1) Form hash brown burger buns using a small plate about the size desired for the buns.
2) Carefully slide shredded potato patties to preheated skillet and fry over medium/ medium high heat until crisp and golden, about 5 minutes a side.
3) Transfer cooked hash brown buns to baking sheet and keep warm/crisp in a preheated, 300 (F) oven, for a maximum of 30 minutes, depending on crispness desired
4) While the hash browns are crisping, prepare eggs and cheeseburgers.
5) Assemble Hash Brown Burgers and enjoy!

For added instruction and entertainment watch the Hash Brown Burger Video!

Don't miss a video… SUBSCRIBE TO MY CHANNEL ON YOUTUBE!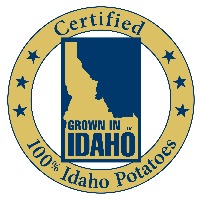 The Average Betty Test Kitchen developed this recipe and produced this video on behalf of the Idaho Potato Commission.
For more great recipes using Idaho Potatoes, check out the Idaho Potato Commission Website.