Y
WATCH THE VIDEO!
This Chicken Tortilla Soup is hearty enough for an entree… even for people that think soup can't be an entree. You know who you are.
Ingredients for Chicken Tortilla Soup:
1 large Idaho Russet Potato, peeled & cut into bite-sized pieces (about 1 1/2 cups)
1/2 cup chopped onion
1/2 cup julienned carrot
1/3 cup chopped celery
1/3 cup julienned sweet pepper
1/3 cup julienned jalapeno pepper
2-3 cloves minced garlic
2 medium chicken breasts
4 cups chicken broth
4 teaspoons cumin
15 ounce can tomato sauce
2 small limes
1/4 cup chopped cilantro
olive oil
salt & pepper to taste
tortilla chips, sliced avocado and sour cream for garnish
NOTES:
Serves 4-6. Refrigerate leftovers for up to one week. For added instruction and entertainment watch the Chicken Tortilla Soup Video.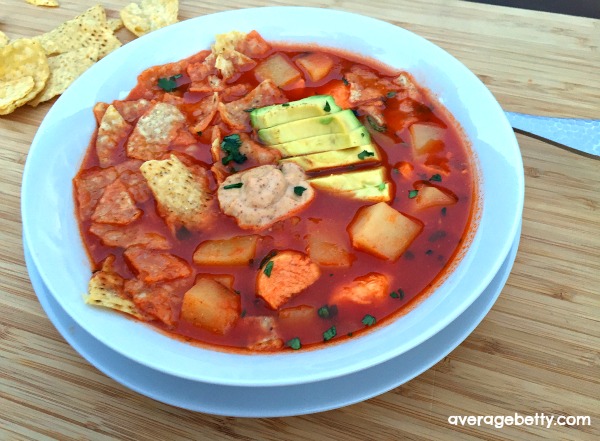 Directions for Chicken Tortilla Soup:
1) In a large pot over medium heat, add a tablespoon of olive oil. Saute onion, carrots, celery, garlic and peppers just until softened.
2) Add chicken breasts, cumin and chicken broth. Bring to a bubbling, reduce the heat, cover, and cook chicken about ten minutes.
3) Add the chopped potatoes and continue cooking the chicken and potatoes until the chicken is cooked through, another 5-10 minutes for the chicken, another 12-17 for the potatoes.
4) When the chicken is cooked, remove from pot and chop/shred into bite sized pieces. Add the chicken back to the soup.
5) Finish soup with cilantro and lime juice.
6) Serve soup piping hot with tortilla chips, avocado and sour cream.

For added instruction and entertainment watch the Chicken Tortilla Soup Video.

Don't miss a video… SUBSCRIBE TO MY CHANNEL ON YOUTUBE!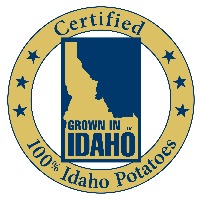 The Average Betty Test Kitchen developed this recipe and produced this video on behalf of the Idaho Potato Commission.
For more great recipes using Idaho Potatoes, check out the Idaho Potato Commission Website.