Y
Click for printer-friendly version!


From Barbara Fairchild's new cookbook, Bon Appetit Desserts comes this Dark and White Chocolate Chunk Cookies with Ginger Recipe. The addition of crystallized ginger gives these chocolate chip cookies a surprising kick. Crystallized ginger can be found in the spice section or the Asian foods section of most supermarkets.
Ingredients for Dark and White Chocolate Chunk Cookies with Ginger:
2 2/3 cups bittersweet or semisweet chocolate chips, divided
1/4 cup (1/2 stick) unsalted butter
2 large eggs
1/2 cup (packed) golden brown sugar
2 teaspoons vanilla extract
3/4 cup self-rising flour
1/2 cup chopped crystallized ginger
3 1/2 ounces high-quality white chocolate (such as Lindt or Perugina), very coarsely chopped
NOTES: Makes about 2 dozen. Cookies can be made 2 days ahead. Store in airtight container at room temperature.

DIRECTIONS:
Preheat oven to 350°F. Line 2 heavy large rimmed baking sheets with parchment paper.
Stir 2 cups chocolate chips with butter in heavy small saucepan over low heat until melted and smooth; cool 10 minutes.
Beat eggs and brown sugar in large bowl until well blended. Beat in melted chocolate mixture and vanilla, then flour.
Stir in ginger and remaining 2/3 cup chocolate chips; let stand 10 minutes.
Drop cookie dough by rounded tablespoonfuls onto prepared baking sheets, spacing cookies 1 1/2 to 2 inches apart.
Press white chocolate pieces into tops of cookies, dividing equally.
Bake until cookies look puffed and slightly dry on top, about 13 minutes.
Cool cookies on baking sheets.
ABOUT THE COOKBOOK: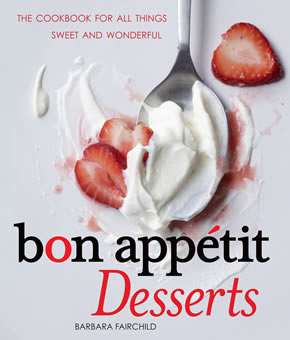 Bits of history, pragmatic tips, easy-to-follow recipes and of course, mouth-watering desserts ooze from the pages of Bon Appetit Desserts.
If you love making desserts, you'll love them even more with the knowledge that Barabara Fairchild imparts in Bon Appetit Desserts.
Photos and Recipes From Bon Appétit Desserts by Barbara Fairchild/Andrews McMeel Publishing. Watch the Video Trailer for Bon Appétit Desserts.