Y
Why do tacos get to have ALL the fun?
Because TACOS.
I know.
But please, consider the Tostada and this Idaho Potato Tostada in particular.
It's flavorful, filling, crunchy and fresh.
Aside from all that, wouldn't Tostada Thursdays be so totally fetch?
Stop trying to make fetch happen. It just isn't going to happen.
Tostada Thursdays though.
That could totally be a thing.
Ingredients for the Potatoes:
16 ounces Idaho Russet Potatoes
1/3 cup diced onion
1/2 teaspoon cumin
1/4 teaspoon chipotle chili powder
1/4 cup cotija cheese
salt and pepper to taste
Ingredients for the Dressing:
1/4 cup mayonnaise
zest and juice one medium lime
2 TBSP chopped cilantro
1 TBSP chopped flat leaf Italian parsley
salt to taste
Ingredients for the Slaw:
1 1/2 cups shredded red cabbage
1 1/2 cups shredded Iceberg lettuce
2 green onion, chopped
1/3 cup julienned, pickled jalapeño peppers
1 avocado, chopped
1/3 cup roasted and salted pumpkin seeds (pepitas)
1/4 cup cotija cheese
4 corn tortillas
NOTES:
Serves 2 entree or 4 starter tostadas. Watch the How to Make Potato Tostadas Video on YouTube for added instruction and entertainment — and don't forget to SUBSCRIBE.
Directions for Potato Tostadas:
1) Peel and dice potato and cook until al dente. Over high heat in a medium saucepan, cover the potato pieces with water and bring to a boil. Reduce the heat, cover the pot with a lid and cook 7-10 minutes, taking care not to over cook. Drain the water from the potatoes.
2) In a skillet over medium heat, combine caramelized onions with potato pieces and season with cumin, chipotle, salt and pepper – or to taste. Run a masher through the potatoes and allow them to cook through. Sprinkle in some cotija cheese and keep warm until ready to build the tostadas.
3) Make the slaw. In a large bowl combine mayonnaise, lime zest, lime juice and salt. Whisk well and add cilantro and parsley. Add the cabbage, lettuce, green onion, and jalapeno and toss to coat. Gently toss in the pepitas and avocado pieces. Keep cold until ready to serve.
4) Prepare the corn tortillas by frying in oil or baking in the oven.
5) Build the Potato Tostadas. Place a corn tortilla on a plate and top with potato mixture. Top the potato mixture with slaw and a little more cotija cheese. Enjoy immediately.
Watch the video on YouTube and SUBSCRIBE for FREE!

Check out this video and hundreds more on my YouTube Channel and… SUBSCRIBE!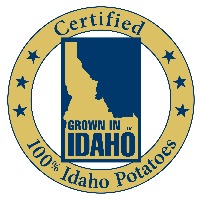 Average Betty and the Idaho Potato Commission have been partners in bringing you video recipes since 2011.
The Average Betty Test Kitchen developed this recipe and produced this video on behalf of the Idaho Potato Commission.
For more great recipes using Idaho Potatoes, check out the Idaho Potato Commission Website.