Y
Leave a comment.


With the dog days of summer barking louder than ever, doesn't a tall, cold glass of iced tea sound refreshing? One of Betty's favorite ways to beat the heat is to put on her swimsuit, make up a yummy sandwich, pour a tall glass of iced tea and head outdoors to enjoy a tasty lunch, poolside!
If you're a fan of iced tea, Betty has some exciting news! Average Betty has teamed up with Tazo Tea and Edelman PR to give three lucky AverageBetty.com readers a sweet Tazo Iced Tea Kit! This cool Kit (shown above) includes a large glass pitcher, an assortment of fine Tazo Teas, a bottle of raw agave sugar, and a Tazo Tea recipe book! Would you like to win one of these awesome Tazo Tea Kits? Well, here's all you have to do:
1. In the comment section on this post, describe your perfect glass of iced tea. Is it sweetened? Unsweetened? Black tea? Green tea? Flavored? Lemon? Straw? Ice?
2. Next, describe the perfect sandwich to go with your perfect glass of iced tea. Is it turkey or tofu? What kind of bread? Don't forget the condiments…
3. For bonus points, describe where you are enjoying this perfect combination of ice cold tea and sandwich nirvana. Are you at the beach or on your couch at home?
Enter now in the comment section!
MEET THE JUDGES


Because every contest has a panel of esteemed judges, we rallied three of our most discerning "Bettys." You'll score points with Hollywood Betty for having the most glamorous tea and sandwich combo. You'll impress wise-cracking Baja Betty if you can make her LOL. And finally, you can win over the toughest critic, Emo Betty, by having a unique style! Good luck!
Enter now in the comment section!
** Enter as often as you like. Prizes can only be mailed to US addresses. Winners will be announced Monday, August 17 at 3PM PT. Entries close Monday, August 17 at 6AM PT. If you have any questions, please email Betty.**
WHAT'S BETTY'S PERFECT SANDWICH AND TEA COMBO?


How about a Grilled Chicken Torta with refried beans, cotija cheese, grilled red onion and avocado relish, piled high inside soft, grilled Telera. Wash it all down with Tazo Iced Green Tea with a squeeze of lime and little honey, and enjoy on the patio amongst the trees!
Link to the Grilled Chicken Torta recipe.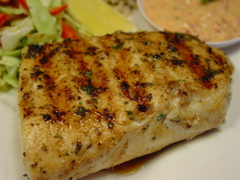 Thanks to Courtnye Heidleburg of the Chicago Examiner, my Grilled Fish with Roasted Red Pepper Aioli was featured in the article, Better Health and Well Being for Plus Size Living. In addition to spiritual and mental well being, Heidleburg explains that diet and exercise are important to help the body "rejuvenate itself and replenish strength."
Thanks to YouTube, the Popcorn Stars really hit the big time with a whopping 88,000 views! And thanks to Tastespotting and Photograzing, the recipe is popping up the charts too. Way to go, Teen & Tween Betty! You are true Popcorn Stars!
SUPPORT GOOD FOOD AND KCRW


Average Betty supports KCRW and you should too! KCRW is Southern California's leading NPR affiliate, featuring an eclectic mix of music, news and arts programming. KCRW boasts one of the nation's largest arrays of locally-produced and nationally-distributed content, including Morning Becomes Eclectic, To The Point, Left, Right & Center, Art Talk, Bookworm, Le Show and Good Food. Show your support by subscribing today!