Y
I'm heading to my home state of Florida to do a live cooking demo for the Idaho Potato Commission this weekend at Food and Wine Conference 2015.
Jeff Houck currently of Locale Market, formerly Food Editor of The Tampa Tribune, and the first official newsman to report on Average Betty (belee dat!) will be joining me to dole out prizes and potato trivia of spudtacular proportion.
I'll be whipping up my Spicy Thai Potato Salad:
Potato Corn Fritters with Chipotle Cream:
And Potato Candy!
If you are attending the conference, please join us for lunch, along with Out of the Weeds, in the Disney Dining Room on Sunday July, 19th at 12:45 for all the fun!
And by fun I mean food and prizes. Duh!
In addition to the instant win trivia questions that can score you awesome Idaho Potato swag at the demo, there's an Instagram contest!
One winner will receive a $150 Visa Gift Card and 10 pounds of fresh Idaho Fingerling Potatoes courtesy of Southwind Farms.

Here's how to enter the 15 Seconds of Famous Idaho Potatoes Instagram Contest:
1) Attend Lunch with Out of The Weeds featuring an Idaho Potato Spudtacular demo.
2) Capture a spudtacular 15 second video involving Famous Idaho Potatoes and post to Instagram with #FamousIdahoPotato15 and #FWCon and tag @idahopotatoes before July 20th.
3) Check your Instagram on July 21st to see if you've won!
See you there!

Check out my latest for the Idaho Potato Commission: Bacon Sriracha Potato Salad.

Don't miss a video… SUBSCRIBE TO MY CHANNEL ON YOUTUBE!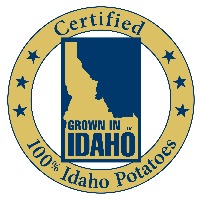 The Average Betty Test Kitchen developed these recipes and produced these videos on behalf of the Idaho Potato Commission.
For more great recipes using Idaho Potatoes, check out the Idaho Potato Commission Website.