Y

Unless you're in Vegas with a buffet coupon for the free salad bar, it's hard to get excited about salad. Salad has an image problem. Just ask Average Betty, who's super tasty Salad Storm (a grilled chicken and spinach salad) is the least downloaded recipe on averagebetty.com.
Well, Betty's not about to let her latest Barbecue Chicken Salad recipe go unnoticed, so at the advice of a high-powered marketing firm she hired the greatest pitchwoman of all time, Betty Mays, to produce a persuasive, high-octane informercial to help put some sizzle behind her latest salad.
Will Betty Mays deliver the perfect pitch to help salad become as popular as a miracle household cleaning product? Watch Mighty Salad to find out…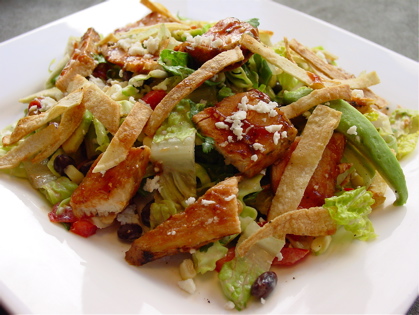 Link to the BBQ Chicken Salad recipe.

Click for printer-friendly version!
Link to the Mighty Salad video.
Adobe Media Player & Wizzard Media Betty was part of the Adobe Media Player Roll-out on the Wizzard Media channel! On the AMP you can download your favorite Internet TV content as well as classic episodes of The Twilight Zone and Yo! MTV Raps! How cool is that? And you can get Betty there, too!

Slashfood Betty was stoked to see that Baja-ha Fish Taco was featured on Slashfood's Food Porn Daily! In her story, the talented food diva, writer and co-host of Fork You!, Marisa McClellan, recalls a wonderful night with a friend enjoying homemade fish tacos and says Betty's fish tacos take her back… Thank you so much, Marisa!
WHAT'S BETTY UP TO?

Coachella Valley Music and Arts Festival! Coachella's this weekend and Betty won tickets from KCRW! Yay! Three days of music, fun and extreme heat! If you can't make it there, you can stream some of the performances online. This is Betty's first time going to Coachella and she's camping! Let's party!
BETTY SIGHTINGS



Hey, baby!


Betty rolled with this delicious sugar cookie platter to a baby shower for her good friend, Antonia! Antonia, and her husband, Erik, are sweeter than the sugar cookies… and expecting a boy any day now!
Thanks for watching!