Click for printer-friendly version!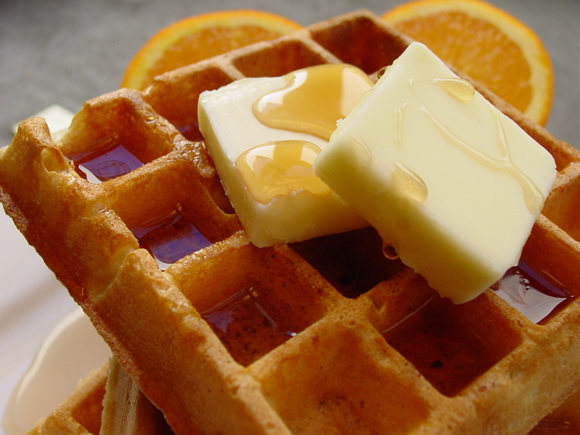 This recipe for waffles has been in my family for years. A little more effort than pancakes but always more impressive. These waffles are light, airy, sweet, crisp — well, they're the best waffles ever!
UPDATE: Watch the Quick And Easy Waffles Video for a quick and easy version of The Best Waffles Ever!
Ingredients for The Best Waffles Ever!:
1 3/4 cups unbleached, all-purpose flour
1 tablespoon baking powder
1 1/2 tablespoons sugar
1/4 teaspoon salt
1 3/4 cups milk
2 beaten egg yolks
1/2 cup canola oil
1 teaspoon vanilla
2 egg whites whipped till stiff
Equipment for The Best Waffles Ever!:
waffle iron (either Belgium or regular)
electric mixer or a metal bowl, whisk, strong arm and patience
NOTES: Makes about 10 Belgium waffles or 12-14 Regular waffles. If the stiffened egg whites are too much trouble, do not separate eggs and add whole eggs to the wet ingredients, fold into the dry. Batter will be lumpy. UPDATE: Watch the Quick And Easy Waffle Video for a quick and easy version of The Best Waffles Ever!
Directions: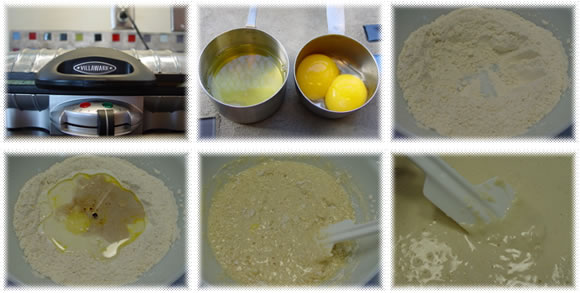 Depending on your waffle iron, you may want to begin preheating. Separate egg whites from yolks. In a large mixing bowl combine flour, baking powder, sugar and salt. Create a well in the center and pour milk, beaten egg yolks, canola oil and vanilla. Mix just until combined. Batter will be lumpy.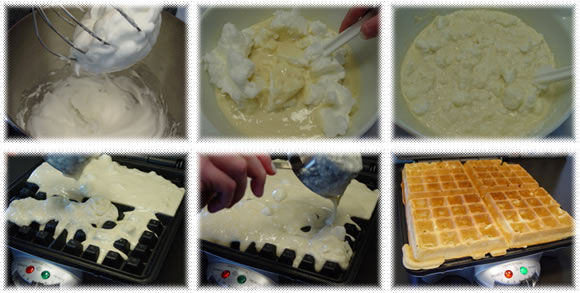 Beat eggs whites until stiff. Fold stiffened egg whites into mixture. Batter will be really lumpy. Pour batter into preheated waffle iron. Do not over-fill with batter. You know who you are… Bake until desired color according to settings on your waffle iron.


Top with butter and syrup (or whatever you like). MAKE AHEAD TIP: To make "toaster waffles" set waffle iron to a lesser setting. Cook waffles until pale, not golden. Allow to cool. Wrap in plastic and freeze. When ready to use, pop into the toaster and enjoy!
Search terms: betty #36, waffle recipe, waffle iron recipe, best ever waffle recipe, homemade waffles, stiffened egg white waffle recipe, old-fashioned waffle recipe, waffler recipe, egg white waffles
Link to the The Waffler video.
Link to the accompanying The Waffler blog post.
MORE HOT BREAKFAST IDEAS!
Click an image to get the recipe.
| | |
| --- | --- |
| Incredible Spreadable Butter | Average Betty Omelette |
| Buttermilk Blueberry Scones | Green Chili Egg Casserole |
| Eggs Benedict | Breakfast Biscuit Sliders |
| Buttermilk Pancakes | Apple Oatmeal Muffins |
| Scones with Lemon Curd | Sour Cream Coffee Cake |